Overview : What's happening out there?
We are happy to announce that we are now guiding the Owens River, the Kern River and also along the California coast for saltwater species. Our guide staff is all over and we can accommodate your needs at any of the different locations we guide and teach.
http://www.kernriverflyfishing.com/guide-service.html
Make sure to follow us on Instagram for daily pics and reports. hl=enhtt//www.instagram.com/kernriverflyshop/?hl=en
Chilly air and water conditions make for some cold weather fishing. Although it may be cold, anglers are still catching fish in the 20 mile section of the upper Kern River as the DFW keeps stocking the river every week through the winter. The guide staff from Kern River Fly Shop have been getting their clients into fish on both rivers and nymphing small bugs has been the ticket. Hatches of Blue Wing Olives have been consistent on both rivers. Anglers are using attractor nymphs like- Drag Queen #14, Naughty Bunny#18 and Jig Princess #12, Jig Faucii https://kernriverflyshop.com/t/tungsten-nymphs?page=5
Guide Rob Buhler 02/18/2021
Kern River: The weather has stabilized, and we are seeing steady action midday fishing with attractor nymphs and some of the standard winners too! Fly selection is pretty much the same and we are catching recently stocked fish mixed with more wild and holdover trout than were catching in January.
Nymphs:Blue Blood Midge #16-20, Red Holo Midge #16, Zebra Midges #16-20, Soft Hackle and Flashback PT's #14-18, Drag Queen #14-16, Pink,Peacock and Orange Frenchies #14-18, Olive/Orange Perdigon #14, Tungsten Jig Fire Perdigon #14, Tungsten Jig TNT Baetis #14, Kauffie Cup Stones #12,Tungsten Yellow Sally Stones #12-14, Birds Nest #12Dries: #14-22 Parachute Adams, #22-26 Brooks Sprout BaetisStreamers:#8-12 White or Olive Tungsten Wooly Buggers, Micro Finesse and Finesse Game Changers in White, Tan and Olive/Tan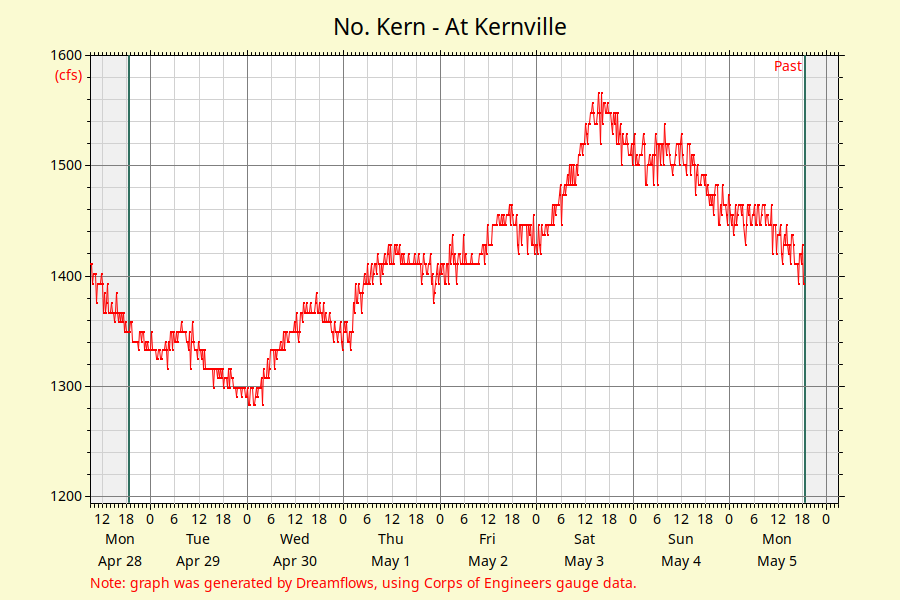 Guide tip: Bump up your tippet size and swing streamers in the deeper pools if the bite is slow. 
A longtime guide secret fly of mine, "Blue Blood Midge" is now in stock at the shop.
https://kernriverflyshop.com/t/buhler-brothers-flies?page=2
Lower Owens River

Lower Owens River: Fishing has been excellent with consistent weather. Two client groups are getting 20-40 wild browns on most 1/2 day trips, sometimes more outside of storm periods. 
Perdigons, Peacock Frenchie #18, Red Holo Midges #16, Rusty Albino #16, Blue Blood Midge #16 have been very consistent lately.
Nymphs:  Olive/Orange Perdigon #14, Soft Hackle and Flashback PT's #14-18, Pink, Peacock and Orange Frenchies #14-18, Tungsten Jig Quill Body Baetis #14, #16-20 Purple, Red and Black Holo Midges, #16 Rusty Albino, Tungsten Jig PT Red Tie #14-18, WD-40 #16-22
Dries: Cripple Baetis #16-18, Parachute Adams #14-20, Griffith's Gnat #16-20, Cluster Midge #16-20, Brooks Sprout Baetis #22-26, Missing Link #16-18
Streamers: Olive Wooly Bugger #12, Micro Finesse Game Changer White and Tan
Guide Tip: We have been fishing only 4 or 5 nymphs but they are keying in on different ones from day to day. If they aren't eating the Olive/Orange Perdigon and Albino midges then switch it up until you find what they are keying on. 
Owens River with Guide Ryan Buhler and his client Kieth!